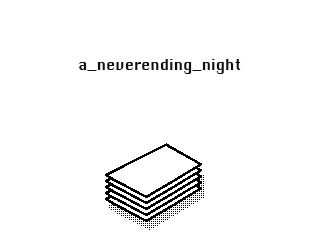 a_neverending_night
a_neverending_night is a retro visual novel adventure that takes place in an unfinished and bug-ridden program based on old roleplay text adventures.
Features:
- Currently around 30 minutes of playtime.
- Authentic retro-look throughout, based on Macintosh Hypercard assets entirely (had nothing to do with Yahoo! Chat but I think it looks cool and fitting, also a creative challenge for me to base characters around available assets).
- Multiple endings to discover.
All assets are from the Hypercard pack made by @egardepe. Game made in Ren'Py.
Any feedback would be cool (is it fun?). Hope you like it (and want to see more)!

Controls:
Mouse left click > Action
Mouse right click > Save and Load menu
Space bar > Action
Enter key > Action
Esc key > Quit game


Download
Click download now to get access to the following files:
a_clearing_in_the_forest.zip
62 MB
Comments
Log in with itch.io to leave a comment.
The preview seems promising, but unfortunately a Notepad appeared when I tried to open the novel :
Absolutely excellent. If you are interested, I could help a bit with tweaking the language. You can find me at tinsnip.tumblr.com. I look forward to seeing where this goes!
Hi tinsnip,

Thank you so much for the wonderful comment, it makes it feel very validating to read something like this and is a massive motivator for me. Absolutely, sounds great...I'll look at your page now.